Welcome to Greene's Garden Things!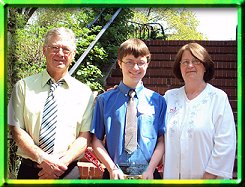 I'd like to introduce myself and my family.
I'm Joshua, I like to garden and play guitar.
My mom, Theresa and my dad, Bob.
As a family we like to garden growing fruits, vegetables and flowers.
Along with gardening I like to play guitar and the banjo, I also enjoy photography and raising rabbits.
We have started raising Pocket Parrots and they are fun and we enjoy them very much!